Project Details
The Russian invasion of Ukraine in early 2022 has quickly grown into the largest human displacement crisis in the world today. Today, over 6.5 million people remain displaced within Ukraine and UNHCR, the UN Refugee Agency, estimates there are over 7.8 million refugees present across Europe.
We have all been moved by the footage of these resilient families. Their strength is inspiring but their needs continue to grow and outstrip the resources available as the crisis develops.
By choosing to give, you are standing with these families to let them know they are not facing these challenges alone. You can help keep UNHCR on the ground providing crucial humanitarian assistance and protection. And you can provide safety, relief and hope to those who have lost everything.
What does your gift support?
Inside Ukraine, UNHCR is providing emergency cash assistance as well as delivering core relief items such as blankets, sleeping mats and emergency shelters.
UNHCR is sending emergency experts and essential supplies and emergency cash assistance to neighboring countries to help refugees cover their most urgent and immediate needs until they can find work or receive social support.
UNHCR is working at border areas and reception centers to identify and provide dedicated care to the most vulnerable refugees, including unaccompanied and separated children, persons with disabilities, cases of suspected trafficking, survivors of sexual or gender-based violence and refugees from the LGBTIQ+ community.
UNHCR together with UNICEF, authorities and partners have established the Blue Dot Safe Space, Protection and Support Hubs along the major crossing points and transit routes. Blue Dots provide a safe space, support and referrals for healthcare, education, psychosocial support and much more.
Your love today will ensure that UNHCR can continue to scale its operations to meet the growing needs of the millions of people who have been forced to flee their homes in Ukraine. Thank you for standing with these families in their darkest hour.
(Last updated October 2022)
In the event that fundraising relief efforts for this specific area have concluded, recurring donations will be allocated to support active relief efforts where funds are most needed.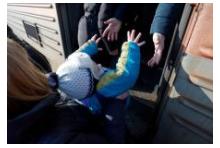 How Donations Work
Click any 'Donate Now' button and then decide your donation amount. You will then be forwarded to your payment processor of choice. Once your donation has been processed it will be sent to your charity of choice.
Need Some Help?