Conflict between armed groups and Ukrainian forces in eastern Ukraine has affected millions of people since fighting began there in April 2014. International Medical Corps is closely monitoring the escalating crisis and stands ready to expand services as needed. Deaths are already being reported and the number of displaced people is rising rapidly as Ukrainians flee from the fighting. While many are migrating to parts of the country they hope will be safer, others are fleeing to neighboring countries.
Humanitarian needs were already high in the eastern part of the country where fighting began—resulting in loss of life and livelihoods, displacement and disruptions in access to basic services. Increased insecurity in the weeks leading up to the February 2022 attack, cold weather and a difficult economic situation have further compounded people's suffering, with almost 3 million Ukrainians relying on humanitarian assistance to meet their most basic needs. With the Russian invasion, this number will certainly rise, not just in Eastern Ukraine, but throughout the country.
International Medical Corps and our Ukraine team have taken immediate measures to ensure the safety of staff in the country and are monitoring the highly fluid situation. We are already preparing to deploy mobile medical teams, to provide essential emergency and primary health services; mental health and psychosocial support (MHPSS) services, which are critical for conflict-affected communities; and COVID-19 awareness and prevention services, to help keep displaced people safe from the pandemic.
We are actively seeking support for our response efforts.
We have significant experience in the country: we previously worked in Ukraine from 1999–2000, delivering essential medicines to healthcare facilities and training more than 500 local doctors and medical staff. In 2014, we once again began providing health services, following the collapse of eastern Ukraine's health system in the midst of conflict. Since then, our team has been working to increase access to medical and MHPSS services. Working in partnership with local organizations and the Ukraine Ministry of Health, our teams currently provide crucial mobile health services in 19 villages near the line of contact, as well as training on various topics, including infection prevention and control, and psychological first aid.
For the latest information on our efforts in Ukraine, please visit our website at internationalmedicalcorps.org.
*Note for recurring donations: Once we have determined that the community can continue to respond to the after-effects of this emergency without us, we will scale back our response efforts. At that time, we will redirect your future donations to where it is needed most to help us respond to future outbreaks of conflict, disease or disaster.
Oferta de donativo equivalente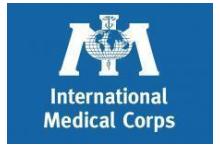 Cómo funcionan las donaciones
Haga clic en cualquier botón de "Donar ahora" y, luego, decida su importe de donación. Será dirigido al procesador de pagos que elija. Una vez que su donación se haya procesado, se enviará a la entidad benéfica de su elección.
¿Necesita ayuda?