寄付の機会
Supercell Match for Ukraine Humanitarian Aid
Join us in supporting organisations on the front lines of the crisis
この寄付の機会について
$590,454.58
を達成:目標額 $2,225,400.00
Everyone at Supercell is horrified by the unfolding humanitarian crisis in Ukraine. We want to try and play a part, however small, in alleviating that suffering.
With over 10 million Ukrainian people displaced, we truly thank everyone who has contributed to our fundraiser thus far. Together with you, our partner studios Space Ape Games, Trailmix and Shipyard Games, and friends at theotherdanishguy and Premico Caesar, we've raised and matched more than $1 million in donations to UNHCR. There's still time to join us!
We will match your donations up to 1 Million Euros. This will go to several organisations on the front lines of the crisis:
UN Refugee Agency: has been on the ground in Ukraine since 2014 providing life-sustaining services to people forced to flee and is scaling up assistance as needed to meet the urgent needs of Ukrainian families.
International Committee of the Red Cross: A global organization assisting those in war-torn areas, the ICRC enables medical professionals and engineers to better the living conditions of Ukraine residents. The ICRC has been on the ground for years, delivering urgent assistance — food, fuel for heating, medical supplies and support for housing — to those living close to the line of contact in eastern Ukraine.
UNICEF has been working across eastern Ukraine for the better part of the last decade,and is at the forefront of the humanitarian response in eastern Ukraine and continues to reach vulnerable children and families affected by the conflict with essential services. UNICEF will be working in programmatic areas, including health, water and sanitation, child protection and education.
International Medical Corps: are already on the ground and are preparing to deploy mobile medical teams, to provide essential emergency and primary health services; mental health and psychosocial support (MHPSS) services, which are critical for conflict-affected communities; and COVID-19 awareness and prevention services, to help keep displaced people safe from the pandemic.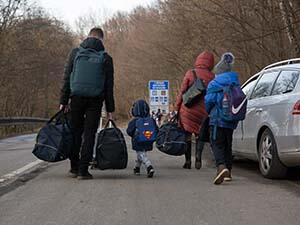 寄付の仕組み
「今すぐ寄付」ボタンをクリックして、次に寄付額を決定してください。その後、選択した支払担当業者に転送されます。寄付手続きが終了すると、選択したチャリティ活動に送信されます。
ヘルプが必要ですか?