チャリティプロジェクト
Support UNICEF's Response in Ukraine (aftermath of the Kakhovka Dam attack)
チャリティ活動名
UNICEF USA
On 24 February 2022, the war in Ukraine escalated rapidly and at scale, causing the displacement of millions of people and the destruction and damage of essential supplies and public services including health, water, food and education infrastructure. Now, over a year into the war, fighting persists, with attacks on civilian infrastructure, power outages/service disruptions, and wide-ranging impacts continuing to trigger refugee movements. More than 8 million refugees are now recorded across Europe. As of 4 June, 24,425 civilian casualties have been recorded in the country: 8,983 killed and 15,442 injured. This includes 1,590 children (527 killed; 1,063 injured). [source: Office of the United Nations High Commissioner for Human Rights (OHCHR)]
In a recent development that has exacerbated the existing crisis for children and civilians, on June 6th, the Kakhovka Dam was attacked and destroyed. The dam was a major power plant on the Dnipro River in Nova Kakhovka, and provided hydroelectric power generation, irrigation, and navigation for the region. The resulting floods have impacted over 40,000 people, submerging 40 towns and villages and causing extensive damage, including the destruction of homes, farmland, and irrigation systems. Thousands have been displaced and 700,000 people have lost access to safe drinking water due to the depletion of the reservoir. There are ongoing concerns around the impacts to mine fields, destruction of crops, and the risk of water-borne diseases.
Working around the clock in Ukraine since early 2022, UNICEF has been actively providing life-saving supplies to those affected by the floods since day one. In collaboration with humanitarian agencies and the Ukrainian Government, UNICEF has already supplied over 25,000 bottles of water (with an additional 90,000 bottles en route to affected areas) and delivered sanitation supplies, including over 10,000 water purification tablets and 1,700 hygiene kits, to address immediate needs. To address the psychological well-being of children, UNICEF has established pop-up Spilno Child Spots at train stations, offering vital psychosocial support. UNICEF has also initiated humanitarian cash transfers to approximately 3,500 parents and children, ensuring that displaced families have the means to purchase essential supplies. Additionally, UNICEF is helping to develop short-term and long-term solutions for the damaged water and wastewater infrastructure, which will be critical to preventing the spread of waterborne diseases.
UNICEF, in collaboration with partners, is at the forefront of the humanitarian response in eastern Ukraine. With your support, UNICEF can continue providing immediate, life-saving supplies and support to children and families affected not only by the ongoing war but also by these recent, catastrophic floods.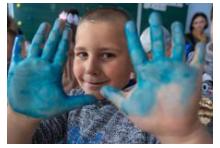 寄付の仕組み
「今すぐ寄付」ボタンをクリックして、次に寄付額を決定してください。その後、選択した支払担当業者に転送されます。寄付手続きが終了すると、選択したチャリティ活動に送信されます。
ヘルプが必要ですか?