On 24 February 2022, the conflict in Ukraine escalated rapidly and at scale, causing the displacement of millions of people and the destruction and damage of essential supplies and public services including health, water, food and education infrastructure. In less than three months, 6 million people fled the war in search of safety in neighboring countries and beyond, including more than 3 million to Poland. A further 8 million people were uprooted from their homes and displaced inside Ukraine. At least 255 children are confirmed to have been killed and 382 injured, but the real numbers are estimated to be higher – and continue to rise.
With UNICEF's help in Ukraine, more than 2 million people have been able to access health care. In 6 neighboring countries, UNICEF has re-activated the "Blue Dot" - one-stop safe spaces that provide crucial support to families on the move. These spaces are set up along routes of major population flows and provide key information to traveling families, safe spaces for mothers and children, and the ability to identify unaccompanied and separated children and ensure their protection.
With your support, UNICEF can continue scaling-up its ongoing humanitarian response in Ukraine and surrounding countries to provide life-saving supplies:
• $10 can provide 2 high thermal resistance blankets
• $35 could help buy a large first aid kit and medicines for a health worker
• $45 could help provide a family with an emergency water, sanitation and hygiene kit
• $75 could help pay for school supplies to help at least 20 children continue their education
UNICEF, together with partners, is at the forefront of the humanitarian response in eastern Ukraine and continues to reach vulnerable children and families affected by the conflict with essential services.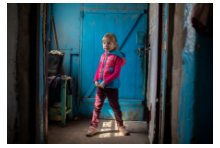 Como funcionam as doações
Clique em qualquer botão "Doe agora" e, em seguida, decida o valor da sua doação. Você será então direcionado ao processador de pagamento de sua escolha. Depois que sua doação for processada, será enviada para a instituição beneficente de sua escolha.
Precisa de ajuda?